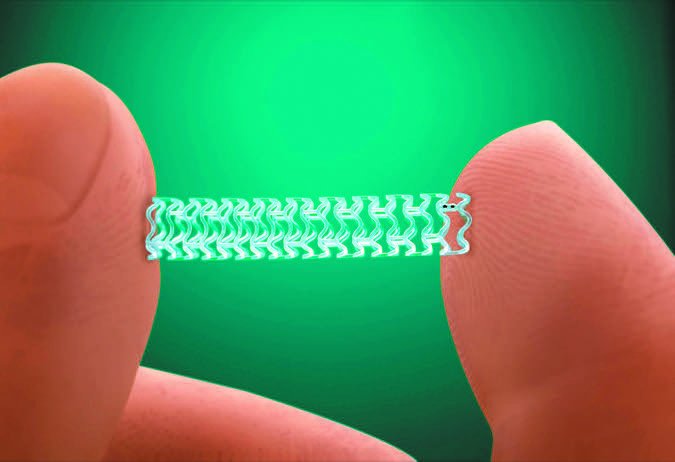 In the ongoing study of a dissolvable coronary artery stent, Cleveland Clinic researchers suggest that the most recent study results may not paint an accurate picture of the product's potential upside. In the study, heart patients who received the Absorb everolimus-eluting bioresorbable vascular scaffold (BVS) fared somewhat worse than those who received the traditional drug-eluting metal stents (DES). Both types of stents are coated with a medication that helps keep the arteries open.
Despite this apparent setback, one of the lead researchers, Cleveland Clinic cardiologist Stephen Ellis, MD, says there are some encouraging signs. For example, he notes that just since the study began two years ago, physicians are already better at deciding which cases call for a bioabsorbable stent and how to place it and manage it successfully.
The BVS also did slightly better than the DES in larger arteries, but poorer in smaller arteries in the heart.
"As we gain experience, we are refining the best practices for these stents and expect to see more favorable outcomes," Dr. Ellis says. "We don't yet have the data to determine whether bioresorbable stents will be better for patients. At two years, the stents have not fully dissolved, so we will have to wait for longer-term results."
Disappearing Stents
Bioresorble stents are made of a special kind of plastic that is designed to slowly and safely dissolve into the walls of the blood vessels in which they are implanted. Researchers are encouraged that these disappearing devices may eliminate some issues surrounding traditional stents.
For example, after a standard stent is implanted in a narrowed artery to help re-establish blood flow, the body can react by starting to have tissue surround and cover the stent. This process is called restenosis, and it can cause the artery to narrow again. The bioresorbable stent would leave nothing for tissue to form around, potentially reducing restenosis risk.